Laying a Long Lasting
Foundation
Community Focused - Conscientious -
Environmentally Sustainable -
Strategic Forethought
MISSION:
Create and grow sustainable value through the application of best practices in mining and yard waste recycling. It is our commitment to protect the health and wellbeing of our employees and the environment within the communities we work.
Striving to provide benefit to our communities, always be environmentally diligent, and pledge to restore our lands for generations that follow.
Thelen Sand and Gravel has been a leading manufacturer of quality construction materials since 1947. We have always valued long standing relationships with our customers as well as the communities in which we reside. Starting with one location in Antioch, IL, Thelen Sand and Gravel has now grown to multiple locations throughout Northeastern Illinois and Southeastern Wisconsin while serving the aggregate and organics industries. As our founder, Vern Thelen adhered to in the beginning and what is still adhered to now, the Thelen philosophy is to remain "Small enough to know our customers and large enough to take care of their needs."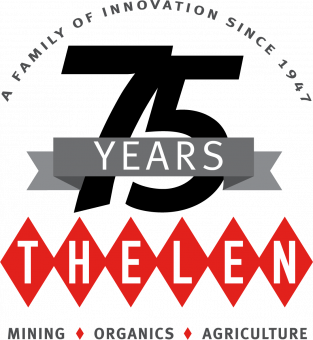 Employment opportunities:
Call 847-395-3313, Attn: Bill Bolger, Human Resources
Contractors and Homeowners Alike Trust Thelen Sand & Gravel!
Thelen offers IDOT and WisDOT certified aggregates and organic soil solutions across Northern Illinois and Southern Wisconsin. We also offer special blends and gradations to meet virtually any road building, construction or landscaping need. Products are manufactured at our Antioch, Petersen, and Lange Road facilities, and are available for pickup or delivery.
Environmentally Sound
Thelen Sand & Gravel proudly recognizes environmental stewardship by utilizing sustainable resources to help power and maintain our operations. By creatively repurposing land parcels that some would consider exhausted or unusable, we are able to better serve the environment through the setup of solar energy panels and other green energy opportunities. Environmental stewardship reaffirms our family's sustainable culture in preparing the next generation for continued success.
Antioch Facility
28955 W IL Route 173
Antioch, IL 60002
Lange Rd. Facility
N191 Lange Road
Genoa City, WI 53128
Lakemoor Facility
914 W. IL Route 120
Lakemoor, IL 60050